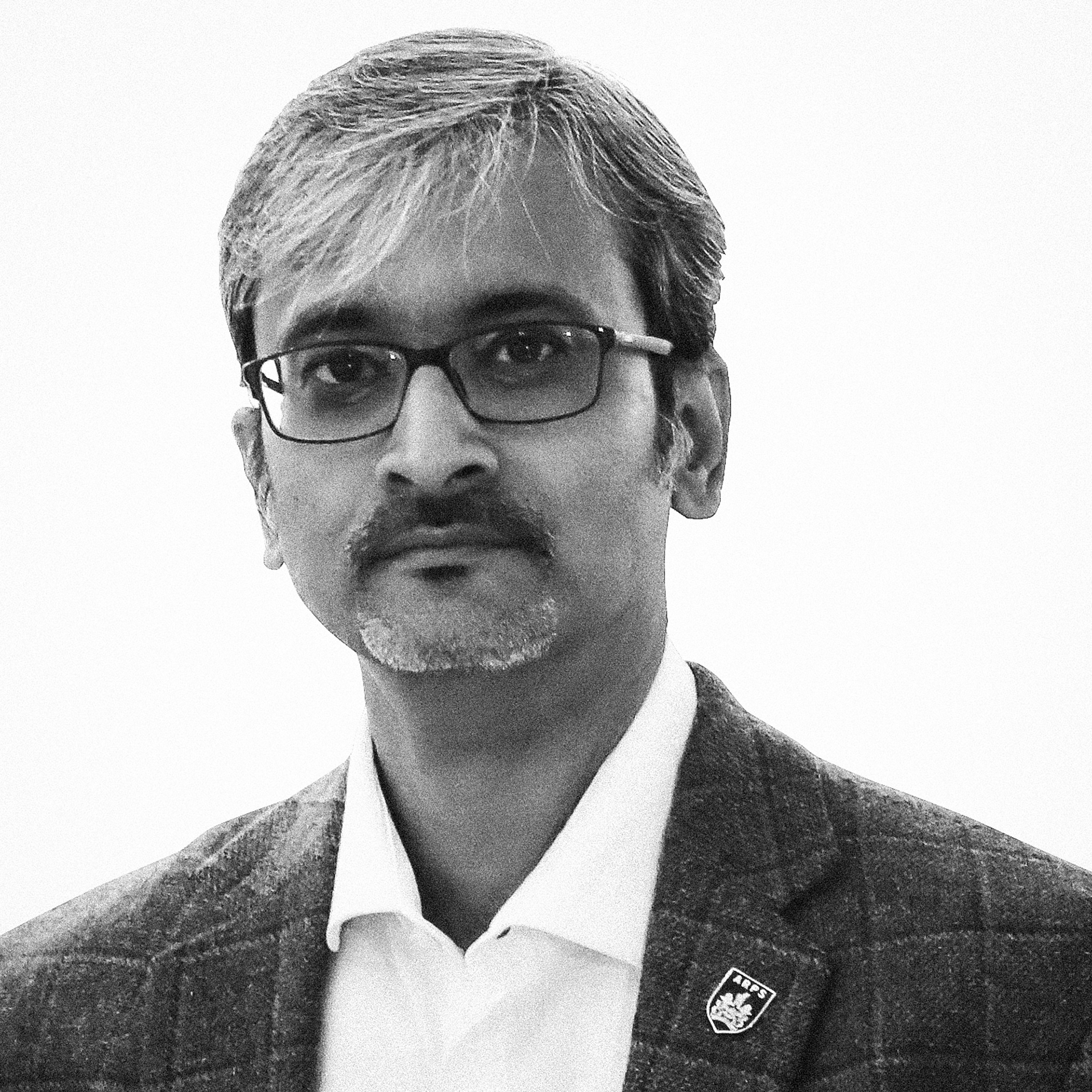 Kaushik Ghosh (b. 1977) is an independent photographer based out of Kolkata, India. He is specialised in medical and humanitarian photography. Born into a family of physicians & surgeons, Kaushik is formally trained in both medicine and visual arts. He completed his medical graduation from University of Calcutta in the year 2001. In 2018, he became the first Indian photographer awarded Graduate Imaging Scientist (GIS ARPS) qualification in medical & scientific photography by The Royal Photographic Society of Great Britain. Kaushik is also the first Indian committee member of the prestigious "Medical Group" at The Royal Photographic Society of Great Britain. He is the pioneer in introducing Asia's first graduation course in medical & scientific Photography at Post Graduate Institute of Medical Education & Research (PGIMER), Chandigarh. From 2014 to 2018, he was instrumental in designing & developing the syllabus that was finally implemented as a formal course in 2017 at PGIMER. Kaushik founded Medical Arts And Humanities Foundation of India (MAAHFI) to dissolve the barrier between science and art in medicine. He is the member of International Visual Sociology Association (IVSA). Kaushik is currently engaged with different international healthcare & social organisations for various kind of assignments related to medicine and public health.
"For about a decade, I am amalgamating my education (in medicine), my training (in visual arts) and my ardour (in photography) to visually communicate medical and health care from the humanitarian perspective. While on this journey, I have been searching for my true calling and identity. An existential question to myself - who am I - a clinician, an artist or a photographer? The conflict within arose from my work as a silent observer - observing & capturing the life and beyond. While initially restricting myself to this visual pursuit, later on I have endeavoured to integrate the science and humanities behind medicine & photography, both intricately in synchronicity with humans. During this pursuance and endeavours, I have travelled places, met and interacted with different people, explored diverse cultures perceiving health and medical care in a holistic way and have endeavoured to document the holistic science of humans. My body of work is incomplete, imperfect in their representation. My photographs are half told narratives — subject to the interpretations, imagination, experiences, world-views of the viewers. They are meant for communication — to imbibe values & truths, to induce reactions. Here they are for posterity to judge for their import and worth. Do be free to lend your voice to my stories". 
Consulting photographer at Immunisation Technical Support Unit (ITSU), Government of India for developing visual narratives related to innovations and implementation of Universal Immunisation Programme (UIP) in India.

​​​​​​​
Consulting photographer & designer at State Health Society, Government of Bihar for developing their upcoming coffee table book on implementation of UIP in Bihar.
Consulting photographer at Global Health Strategies (GHS) for their upcoming Photography exhibition "Behind the Scene" – that will showcase various profiles behind the success of Universal Immunisation Programme in India.
Consulting photographer at John Snow India for developing visual narratives on Rotavirus Vaccine Introduction in India.
Creative & editorial contributor, Getty Images.
Former technical advisor & consultant, Department of Clinical Photography, PGIMER Chandigarh.
Former Consulting Director - Visual and Mass Communication at Ahead Initiatives, Kolkata (a DANIDA supported social organisation working in agriculture, health, nutrition & education).
​​​​​​​
Major publications:  
Harvard School of Graduation (UK) ■ International Crop Research Institute for Semi-Arid Tropics (ICRISAT) ■ Bennett Coleman & Company Ltd (India) ■ Cambridge University Press (UK) ■ Scroll.in ■ Down to Earth (India) ■ Smith Global Ltd. (UK) ■ Eallin Ltd. (UK) ■ Centre for Advancement of Traditional Building Technology and Skills (CATTS) (India) ■ UNILEVER UKCR Ltd (UK) ■ Wava Truscott (US) ■ AOL Photo (US) ■ Barrie DRozario DiLorenzo (for Minnesota University, US) ■ World Bank - Ministry of Labour & Employment, Govt. of India ■ Bauer Publishing Print (Poland) ■ Nine Media Corporation CNN (Philippines) ■ Purestyle SAS (France) ■ Woven Digital LLC (US) ■ BBC (UK) ■ Express Newspaper Ltd (UK) ■ Fairfax Group (Australia) ■ Helen Von Trotsenburg (UK) ■ Microsoft Multimedia Publishing (US) ■ National Geographic (India) ■ Tower Business Communications (UK) ■ Absolute Publishing (UK) ■ Axel Springer AG (Germany) ■ Yahoo Entertainment (California) ■ Google Inc (US) ■ Microsoft Multimedia Publishing (USA) ■ Getty Images (China) ■ Oxford University Press (INDIA) ■ RP Sanjeev Goenka Group CSR (India) etc.
​​​​​​​